In the digital marketing space, your landing pages are essential if you're trying to make sales, get emails, or increase brand awareness. The first step to take when trying to learn how to craft a compelling landing page is to see examples — and good ones at that.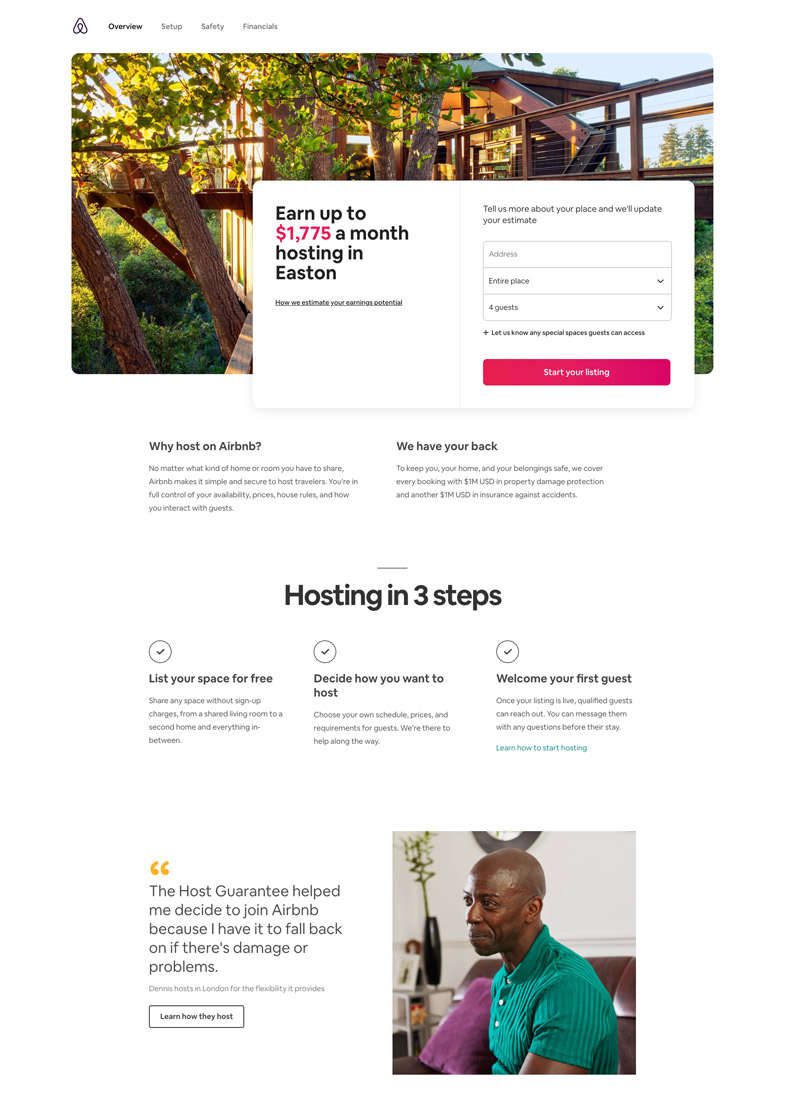 The Airbnb landing page is great because it's concise and has properly placed Call to actions. When you land on their page, a form and a call to action is the first thing you'll see. Plus, the benefits they offer. This is a great example of grabbing your visitors' attention from the start.
So what are some other things Airbnb did correctly?
The benefit at the top of the page is an attention grabber.
They included testimonials
Benefits for their customers in bullet points
Frequently asked questions lets visitors get more information about them.
There's a single offer on the page, which increases conversion rates.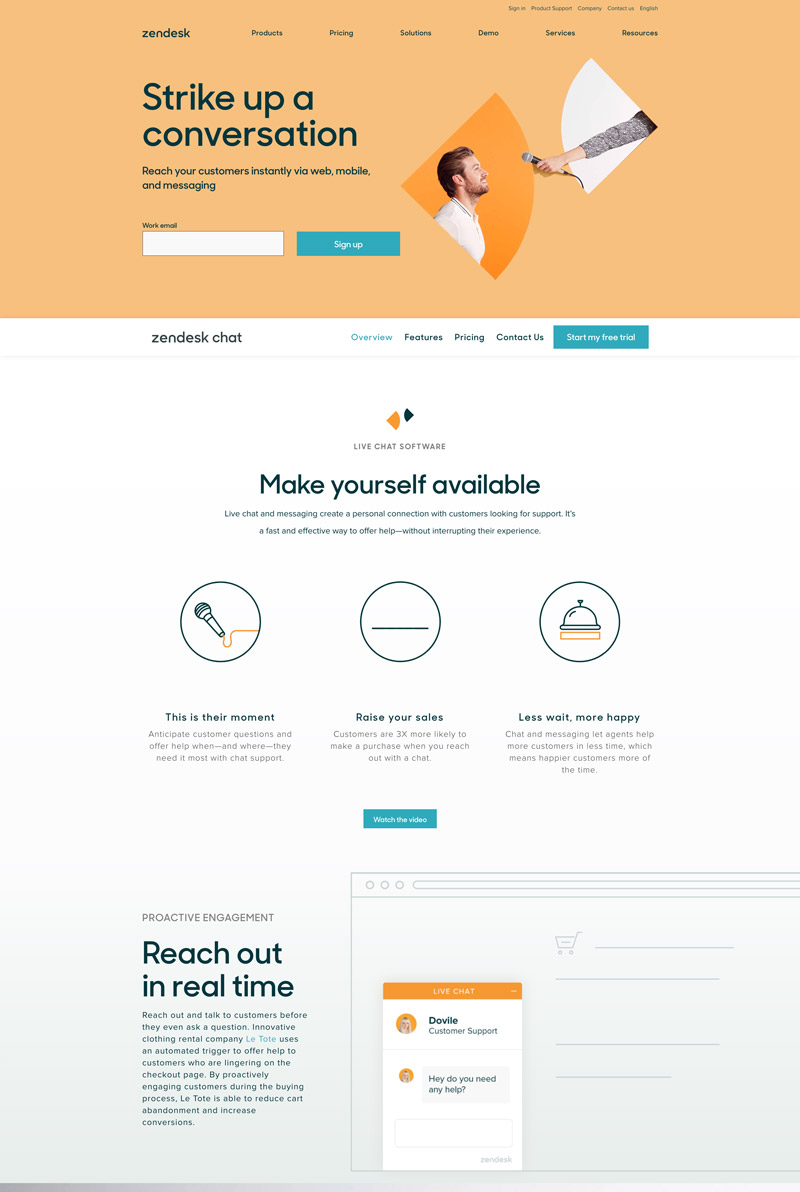 The first thing you'll notice when you land on Zendesk's landing page is the color orange, which, according to a study, increases conversion rates by 32.5%. Plus, the signup form is a nice touch from them.
So, here are other things you can emulate from Zendesk's landing page.
Clearly placed benefits
The inclusion of testimonials builds trust.
Has colorful visuals that make you want to read the content
Signup forms increase conversion rates.
Concise and to the point
Muzzle's landing page is the simple definition of straight to the point. On the page, you can see the benefits of their service. They show the pain points (embarrassing messages) that may appear on your screen.
So here's what you can mirror from Muzzle's landing page.
A single offer
Clearly stated pain points, in terms of the embarrassing messages.
They kept things short and sweet.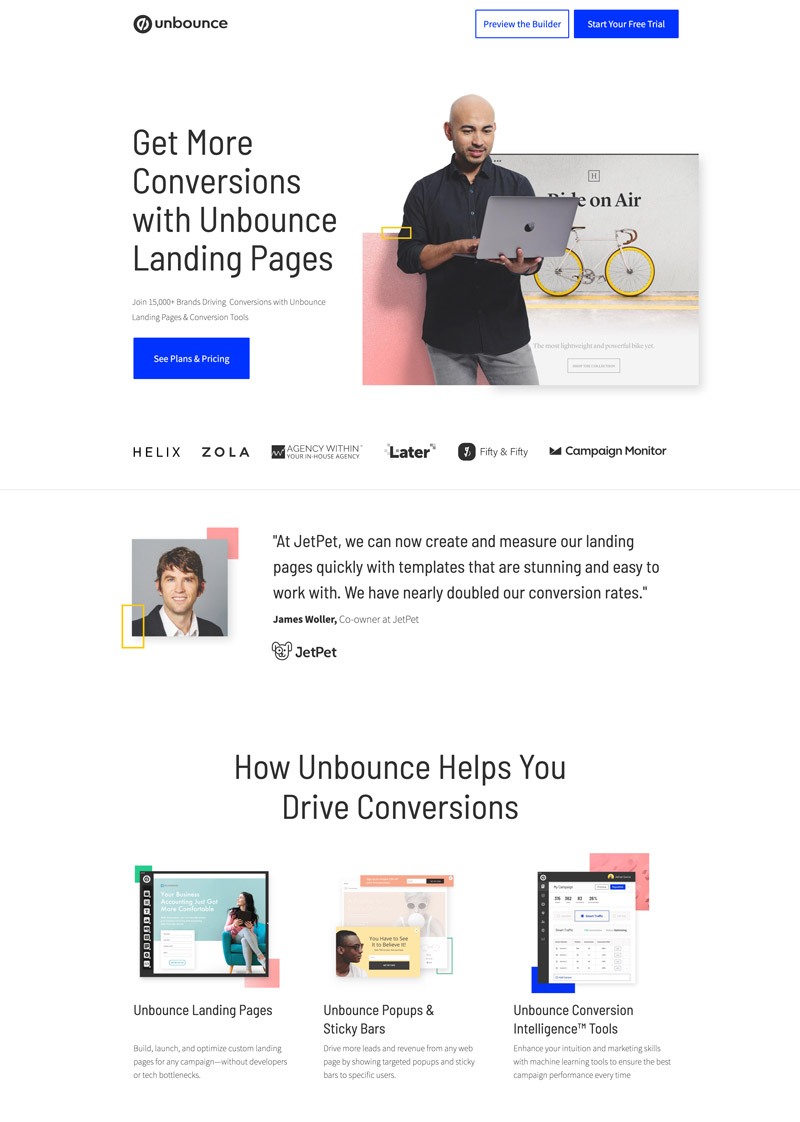 Unbounce's landing page is filled with CTAs. The "Preview the Builder" and the "Start your Free Trial" buttons are fixed to the top, so as you scroll down, it follows you. This significantly improves your conversion rates.
Here are some other reasons why their landing page is so great.
The benefits of using Unbounce is the first thing you see on the page and a call to action follows.
They included testimonials and images of popular companies they've worked with
More benefits, to convince you more
Colorful interface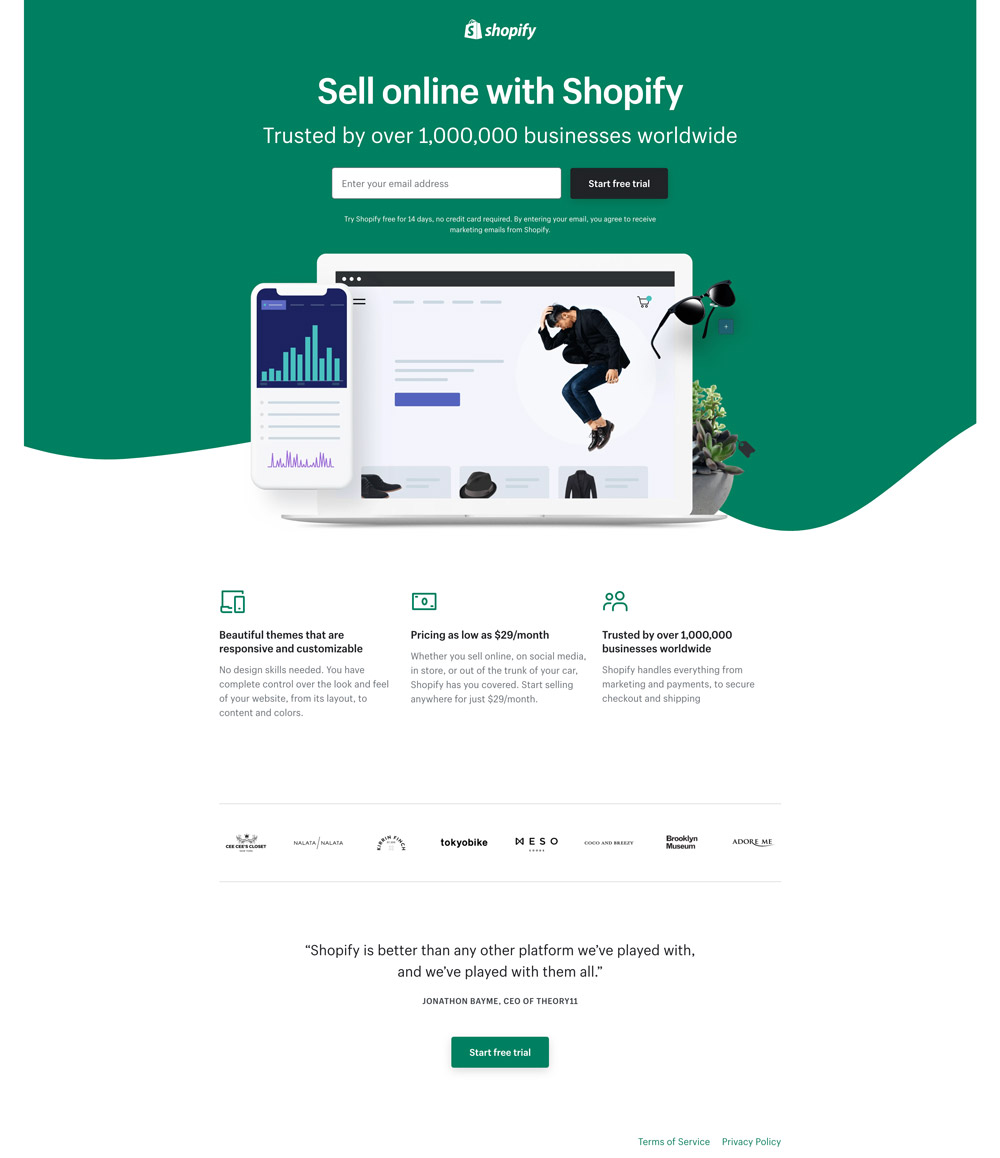 Shopify's landing page is another one that stands out because of its simplicity. There are no distractions, just the above the fold benefits and a call to action.
What you can learn from Shopify's landing page.
Main benefit and Call to Action above the fold
It's easy to get started as there aren't many fields to fill.
Clearly defined benefits to convince you more
Testimonials and logos of big brands they've worked with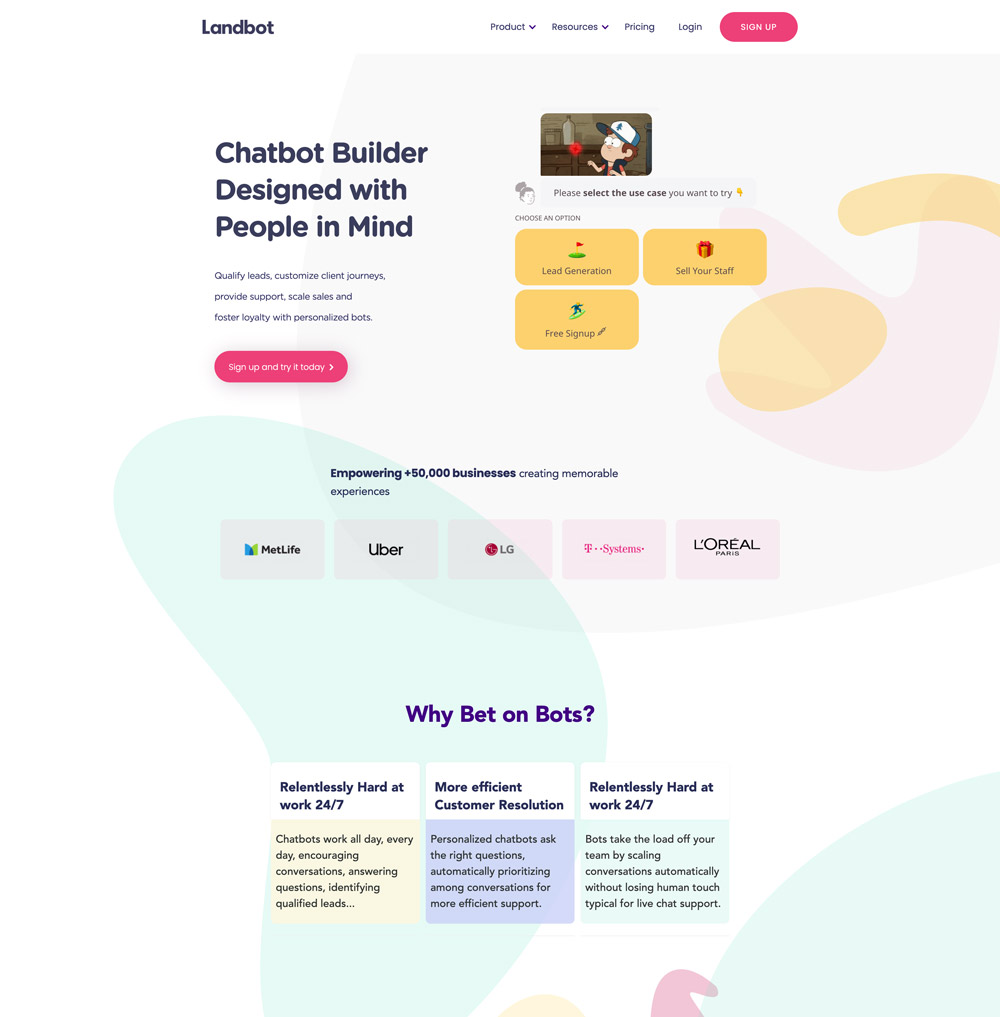 Landbot's landing page is highly informational. It has enough information that ensures that you keep reading. Plus, it is packed with emojis and GIFs that grab your attention while you scroll.
Learn from Landbot's landing page.
Packed with information
Visible CTA at the headline
Logos of companies that use their service (which gives visitors confidence)
Dominated with benefits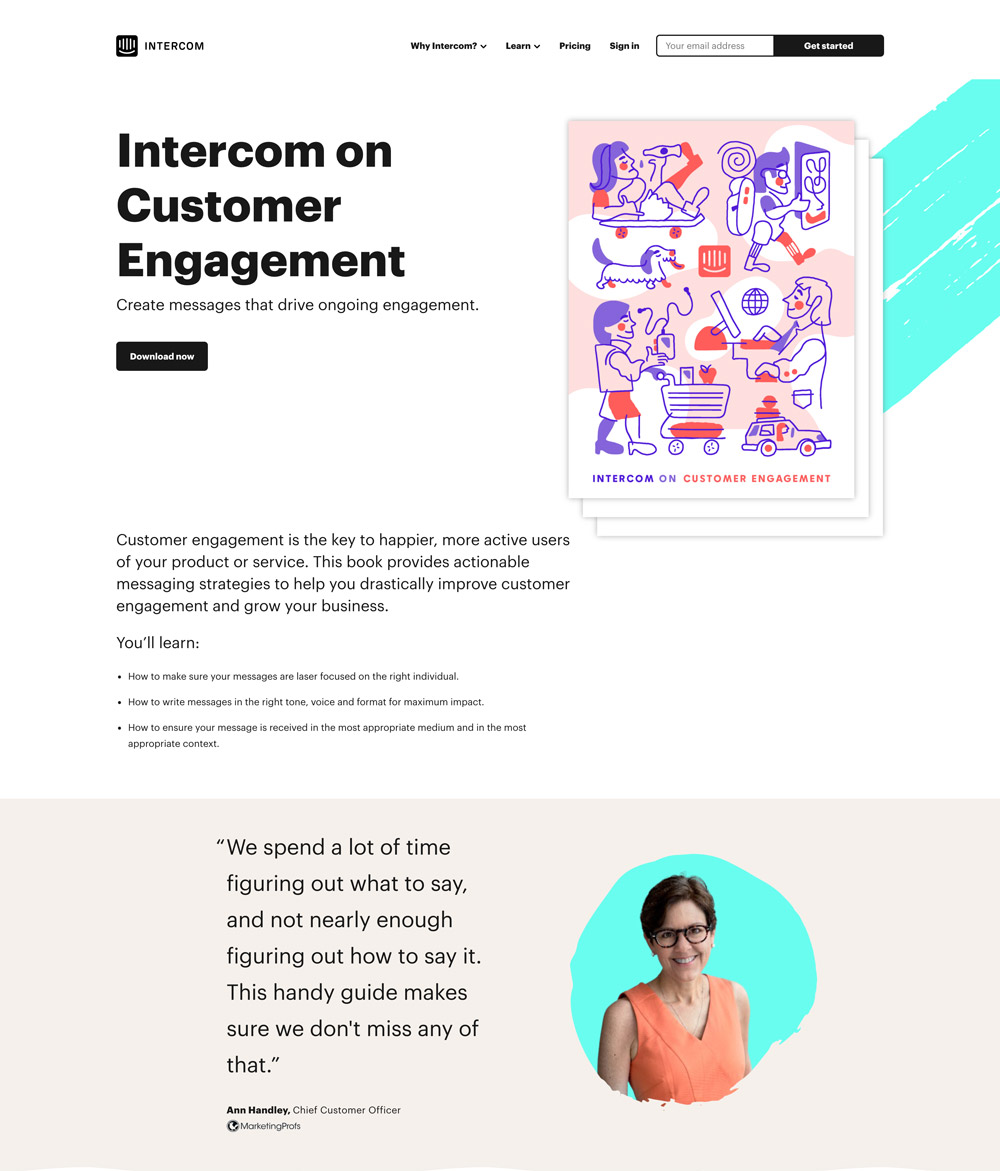 Intercom's landing page is simple yet gets the message across — download their ebook. When you land on their page, the first thing you see is a major benefit of the book as the subheader, followed by a call to action. The bullet points included are a nice touch to show you more benefits of what the book offers.
Here are some things you can copy from Intercom's landing page.
Their landing page is simple and straightforward.
Bullet points to explain the benefits.
Testimonials of past users
A navigation bar that gives you more options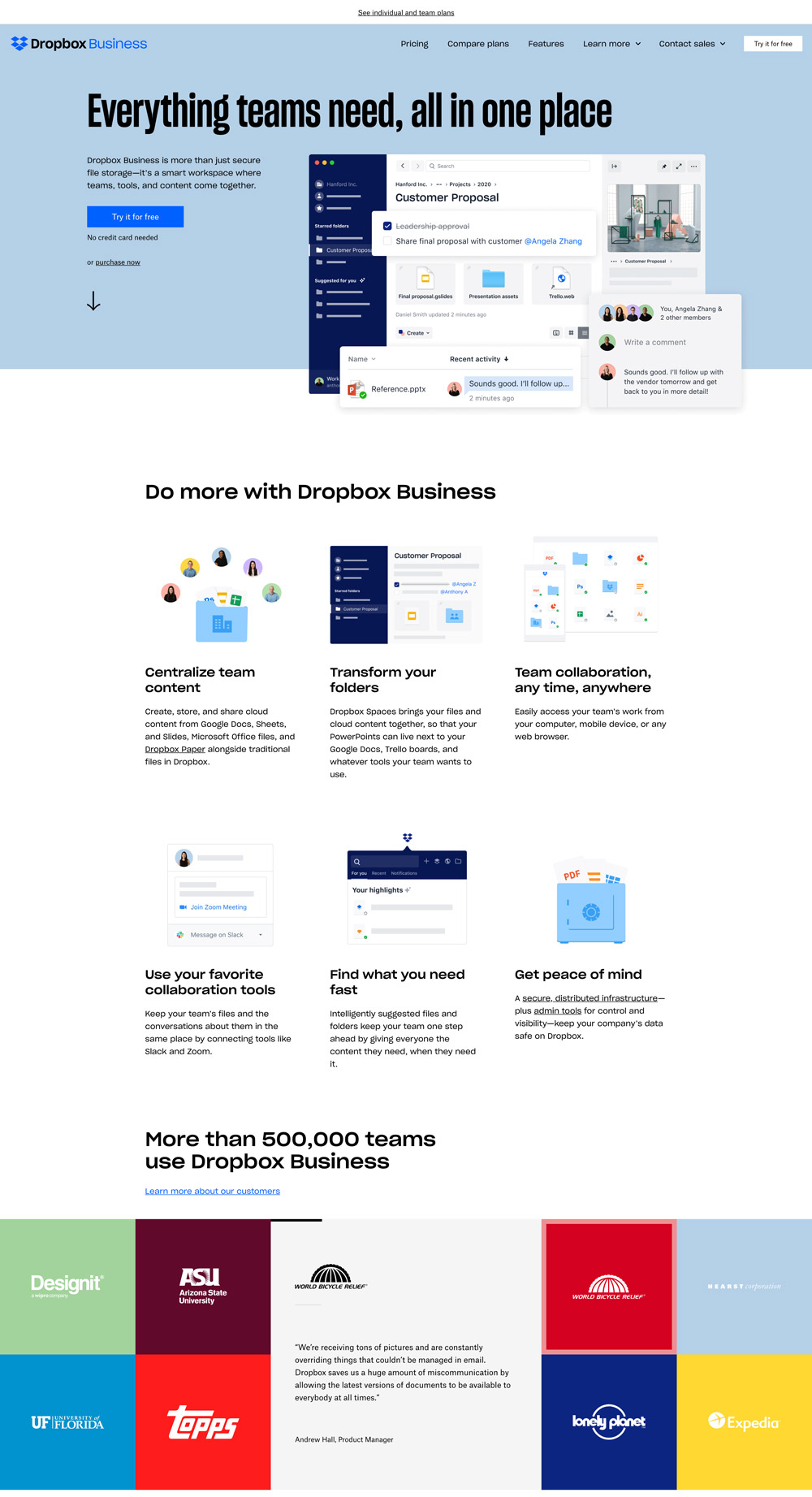 At first glance, you'll notice that dropbox's landing page is colorful, but all the information is rightfully placed to draw you in. The boldly written benefit as the headline and then bullet points, plus the inclusion of businesses they've worked with, qualifies it as a compelling landing page.
What did Dropbox do right.
They included directional cues that draw your eyes to the CTA.
Clearly stated benefits
Logos of companies they've worked with previously gives them credibility.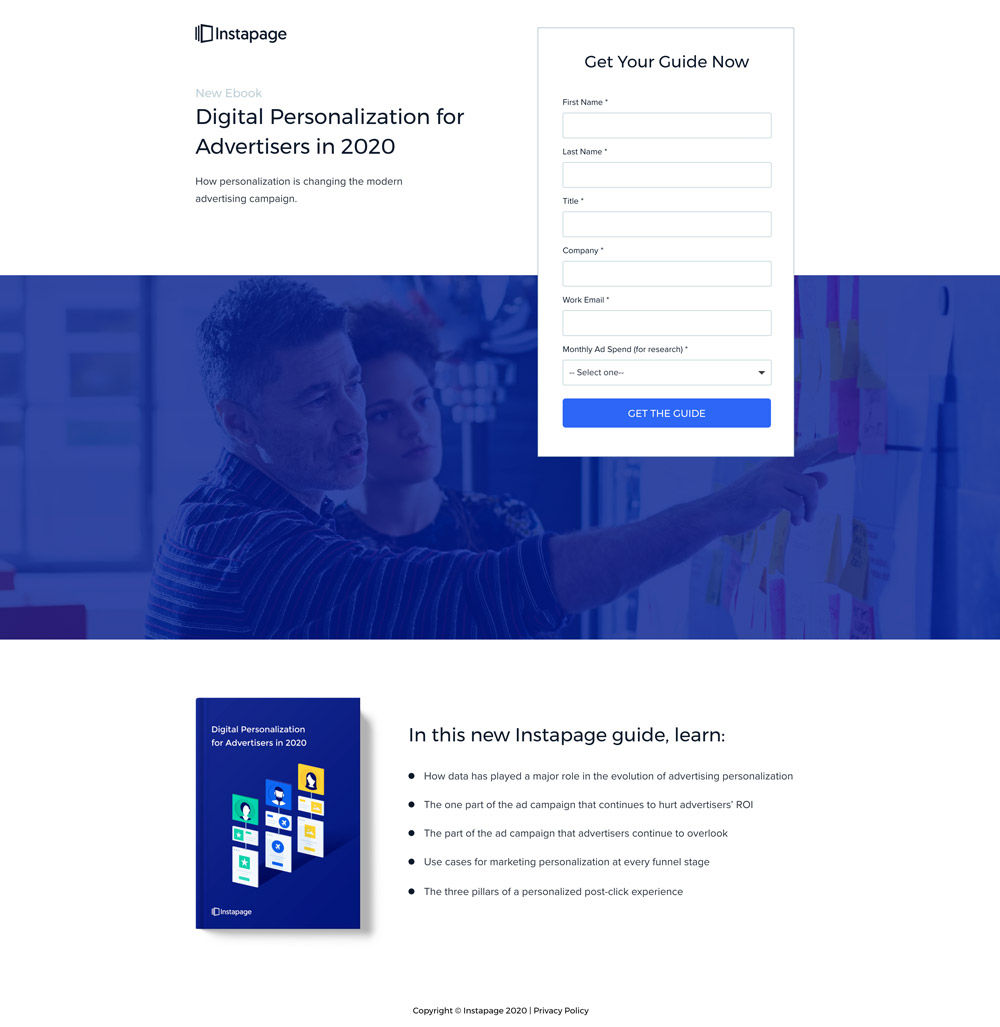 Instapage's landing page embodies simplicity. They go straight to the point with a minimalistic design. At the top of the fold, there's a signup form and the title of the ebook.
Here are some things you can learn from Instapage.
Minimalistic design coupled with a single offer increases the conversion rates
Bullet points highlight the benefits you get from the book.
They included images of real people, which tend to convert more than stock images.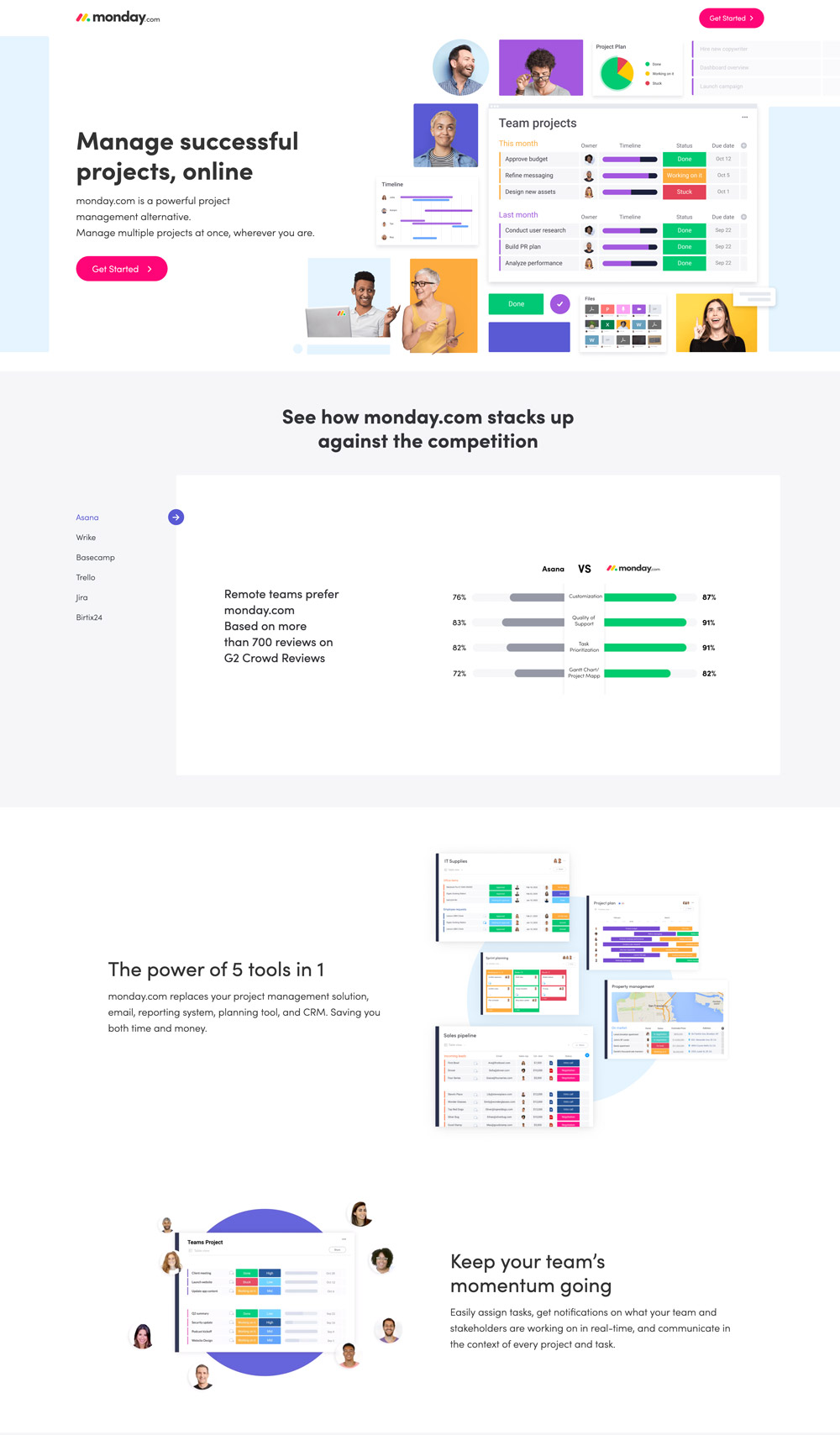 Monday's landing page is colorful, yet packs all the features of a great landing page. They show their USP (Unique Selling Proposition) by comparing their service with their competition. Plus benefits and testimonials.
Here's what you can learn from Monday's landing page.
A call-to-action above the fold
They give their customers confidence by comparing their reviews with their competitors.
They included animation, which grabs your attention.
Plus, clearly stated benefits.
Logos of big brands they've worked for
Testimonials of their customers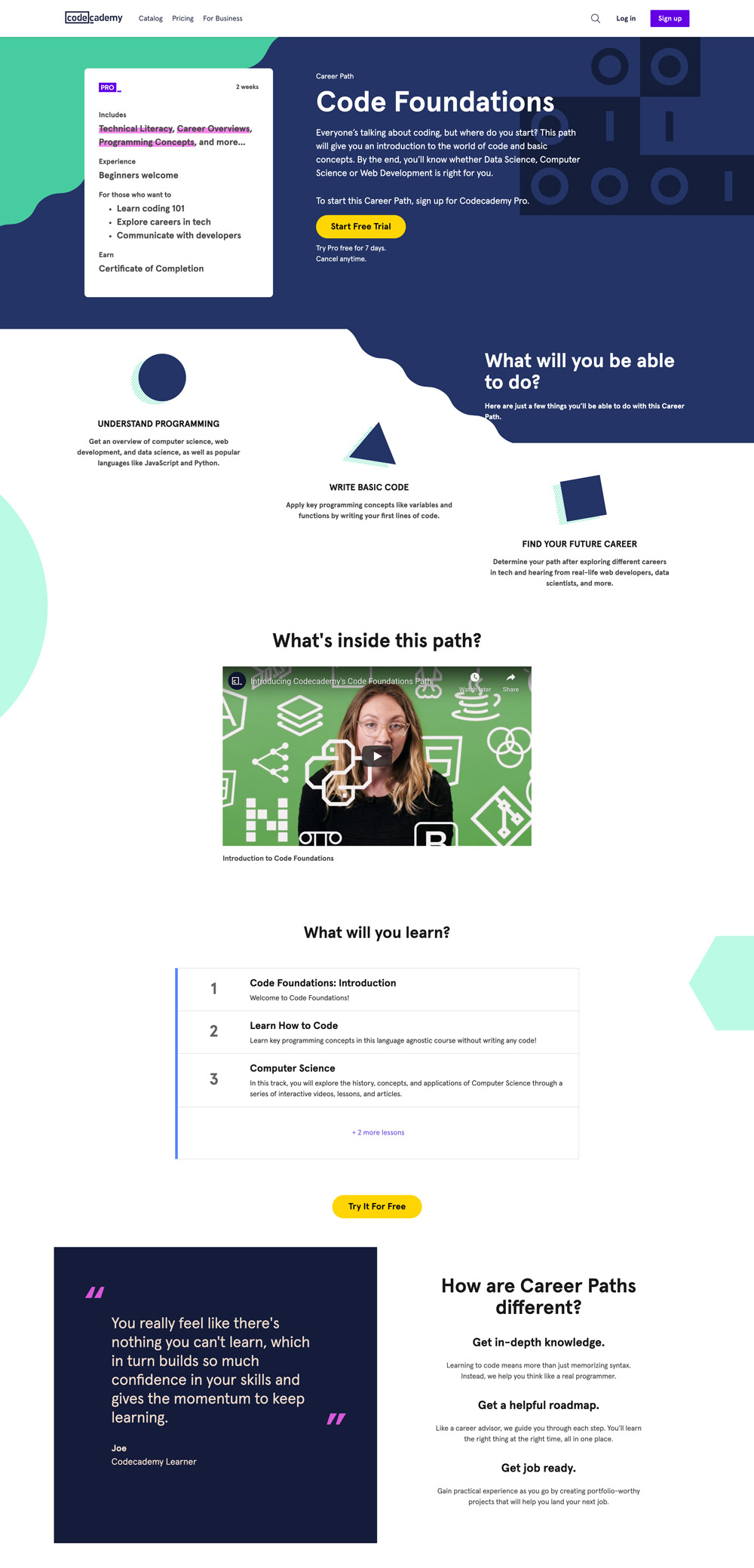 Code Academy's landing page is the first on the list that includes a video. And studies show that using videos on landing pages increase conversion rates by 86%. Their page grabs attention and includes enough information to guide their visitors through the buying process.
Here's what you can learn from Code Academy.
Their appealing color grabs your attention.
A call to action above the fold
They stylishly mentioned their benefits.
The inclusion of a video increases conversion rates.
Testimonials from other customers increase visitors' trust.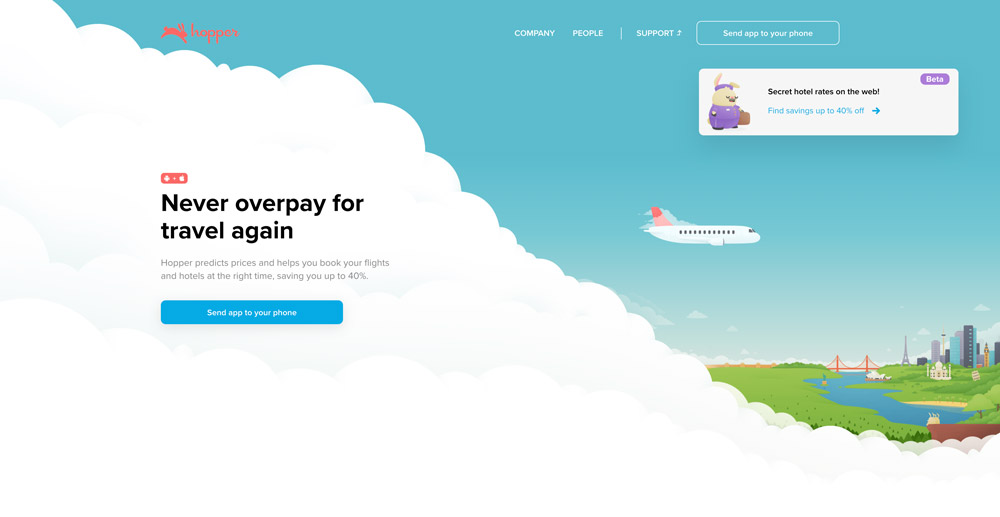 Hopper's landing page will draw you in because of the discount included in the headline. You have to give it up for hopper to visually appealing and simple their landing page.
So here's what you can learn from hopper's landing page.
Simplistic design
Drawing people in with a discount
Conclusion
Your business needs a landing page to convert your website visitors into paying customers or lead. So, some general tips for an effective landing page from the examples above are; to make things simple, state your major benefit early, include testimonials and logos of companies you've worked with, and clearly state your benefits. These are the core attributes of highly successful landing pages.
Receive resources directly to your inbox
Sign up to get weekly insights & inspiration in your inbox.