What is a CMS?
A content management system helps create, manage, modify, and publish content without worrying about high-tech HTML specialized knowledge.
Anyone can create a website using CMS tools without having any prior technical knowledge as these allow users to manage databases, audio, and video files easily without meddling with an internal user interface.
So, non-technical users do not have to be proficient in JavaScript, HTML coding or PHP language to manage and market their content and products. They can easily personalize their website with various template options and widgets without having any technical difficulty.
What To Consider When Choosing A CMS
Pricing Options
Your CMS's cost depends entirely on whether you're creating a website from scratch or buying an existing template. High-tech organizations often resort to creating their own CMS, which is quite costly due to these platforms' maintenance and scalability.
However, with open-source CMS platforms offering similar features, small businesses can also leverage advanced functionality at a lower cost.
SEO
Your CMS should provide features that enhance customer experience and provide tools like a customizable permalink, ability to add title tags, XML site map, and more.
An active permalink can allow users to insert their keyword into the URL to rank higher on search engines. SEO titles and meta tags also help improve your blog post's relevance, allowing Google to rank it better.
Personalization
A good CMS software will allow you to integrate your current tools in the MarTech stack with third-party apps. For example, if you want to track visitors' footfall on your website, adding a plugin in your CMS software should allow you to track visitors using web analytic tools.
Security
As internet technology increases, so does the vulnerability of websites to security threats. Therefore, it is vital that your chosen CMS platform offers appropriate anti-virus tools to protect your website from malware or security attacks.
Make sure that you can easily integrate any third-party security plugins to increase your website's security.
Customer Support
Their help and customer support determine the most efficient CMS products. Check online reviews and see what others are saying about any CMS platform that you decide to choose.
10 Best CMS Software Solutions For Your Marketing Needs
Let's explore the top CMS platforms and find out how to pick the right one for you:
1. WordPress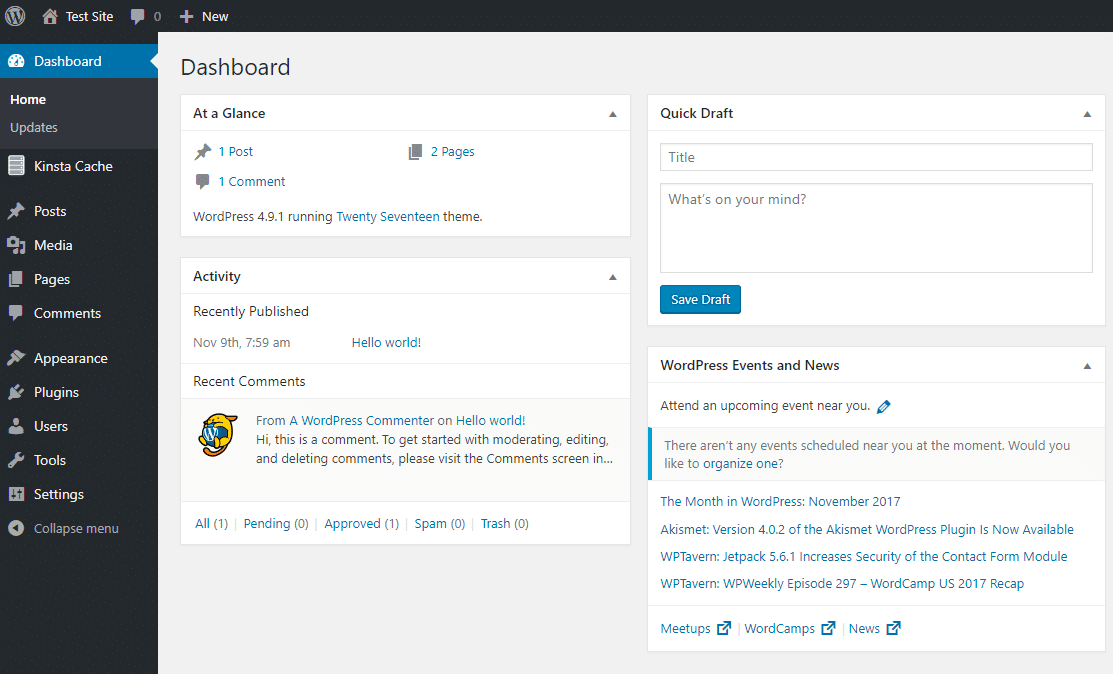 One of the best examples of a popular content management system is wordpress.org. WordPress allows its users to create, manage, and design content according to their preferences. Currently, WordPress maintains a 37.6% of market share overall CMS websites.
It is a favorite among bloggers due to its design, easy-to-use framework, and a wide range of customization options, from aesthetics to third-party integrations.
Features at a glance:
Publishing Tools
User Management
Media Management
Wordpress Themes
Open source plugins
Get started building on Wordpress.
2. HubSpot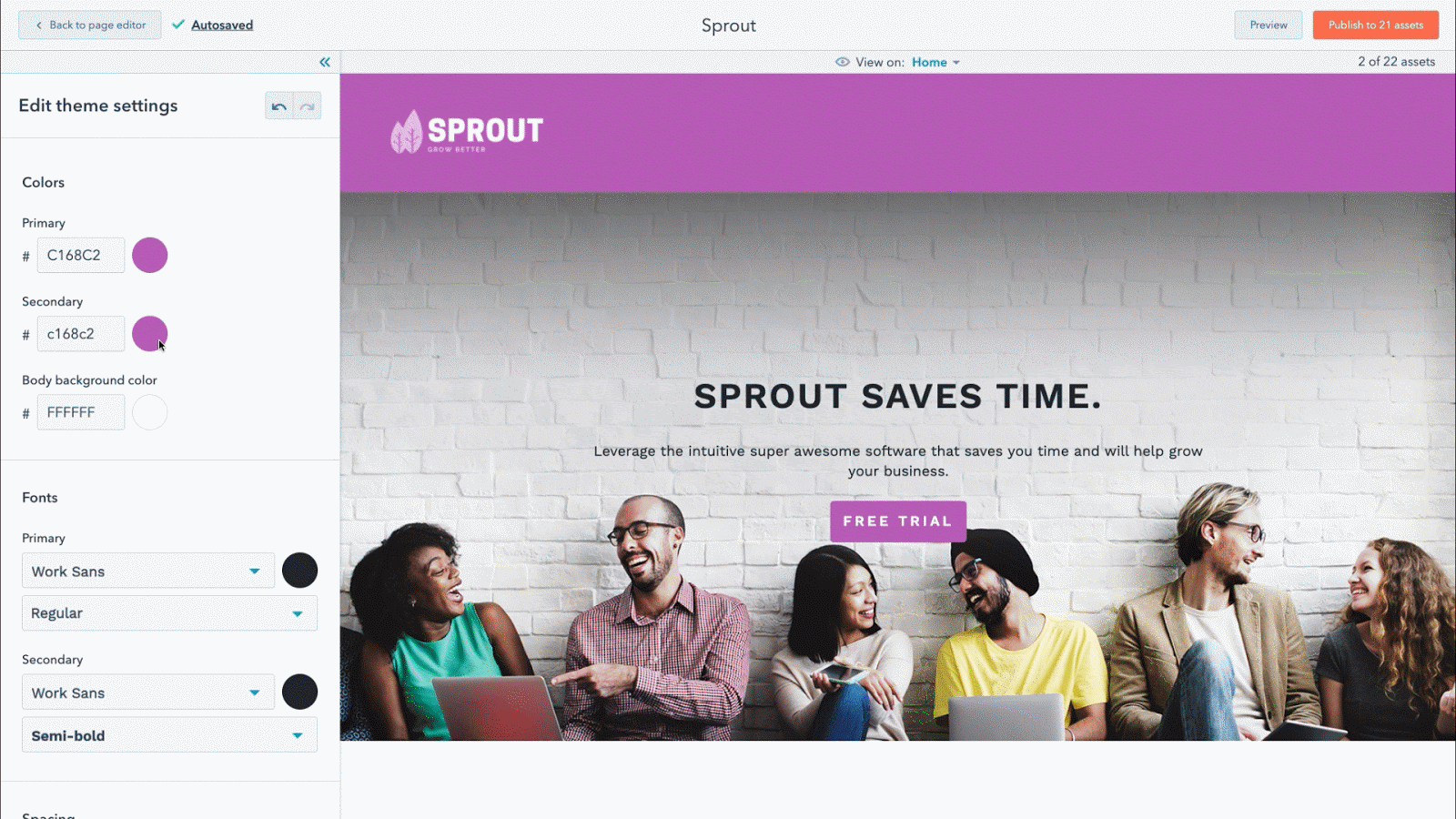 HubSpot has emerged as a leader in the CMS category for three main reasons.
It offers both marketing automation as well as a CMS that can integrate with the entire HubSpot product suite. High-end personalization tools like call-to-actions, live chats, and smart content, as well as built-in analytic tools to check your site's traffic. The integration between HubSpot's CRM and CMS can help users customize the site according to your visitors' traits.
Features at a glance:
SEO recommendations
Website themes
Multi-language content creation
Drag-and-drop editor
Contact attribution reporting (with their CRM)
3. dotCMS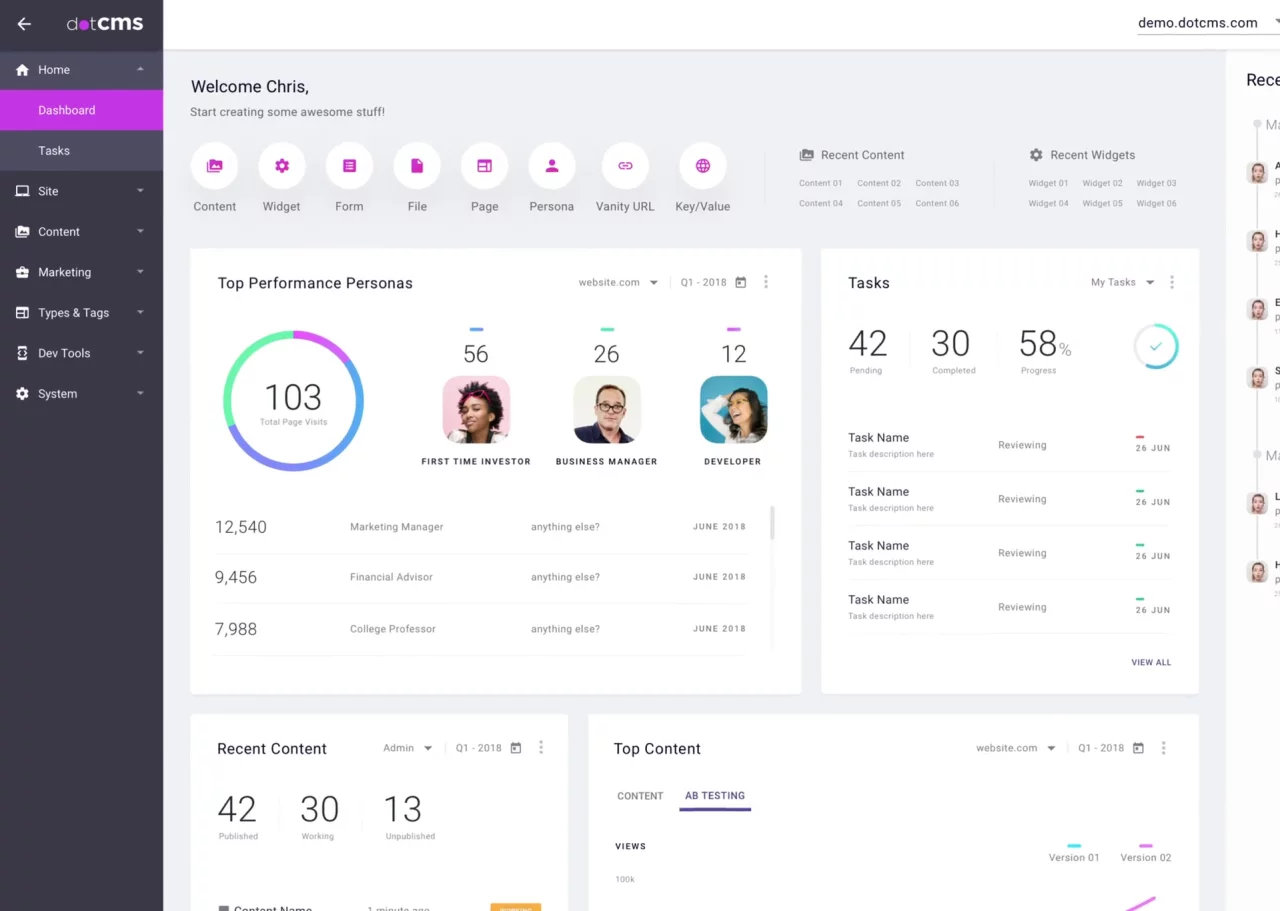 dotCMS is a Java-powered software that is best for marketers and web developers. It allows users to re-use old data and create a digital output that brings together all the advantages of a headless CMS with the ease of a traditional CMS.
With its drag-and-drop features, you can manage and secure multilingual content all at the same place!
Features at a glance:
Drag-and-drop editor
Headless CMS
Built-in SEO
4. Drupal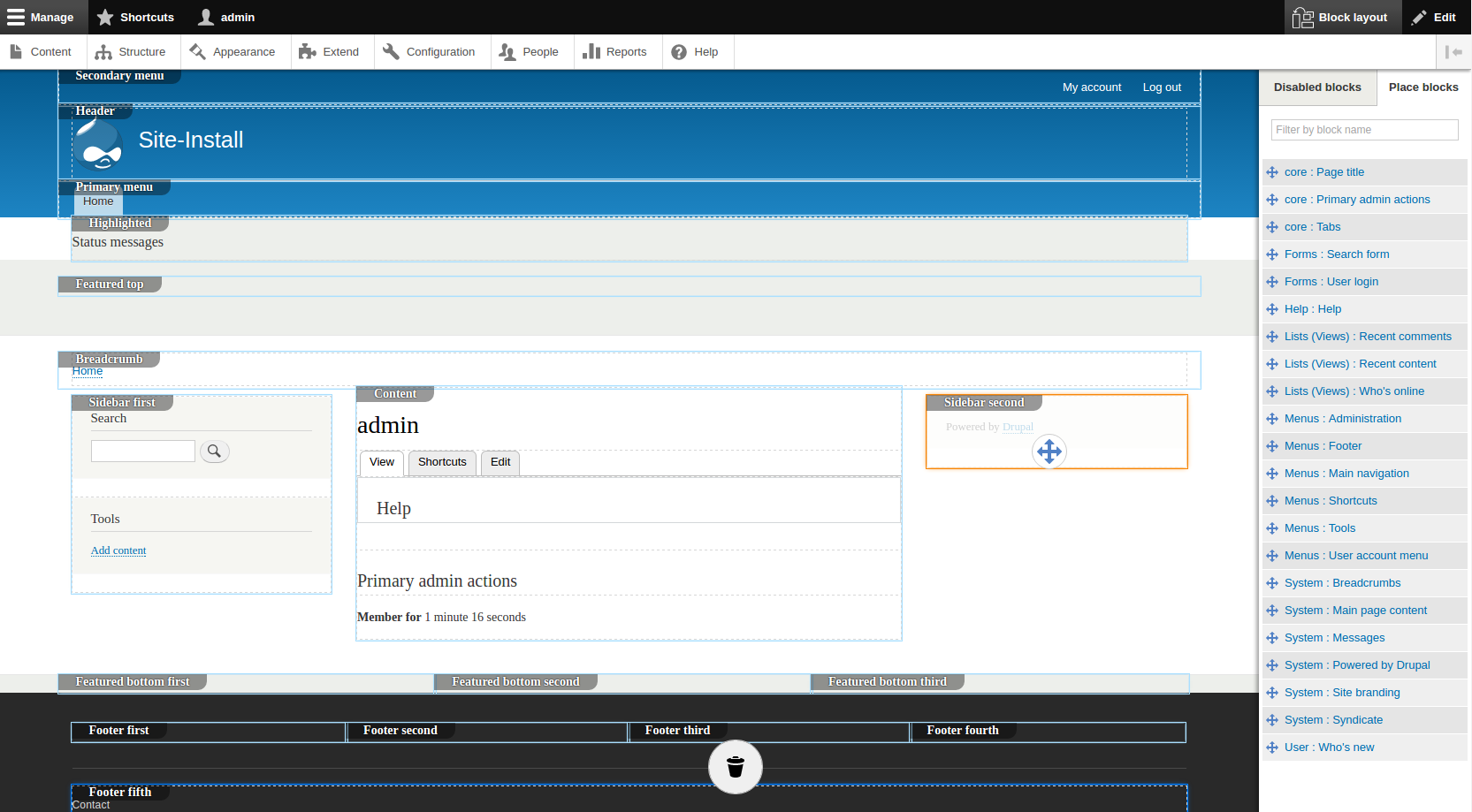 Drupal is another widely popular open-source CMS software best for users looking to offer the best possible customer experience across various industries, such as healthcare, e-commerce, higher education, government websites, and media houses.
Some of its features include multilingual site support, user-generated content websites, and custom features for creating blogs. However, because of its high-end tools, it might not be suitable for a beginner.
Features at a glance:
Theme Engine
Multilingual Ready
Content Authoring
Open Source
5. Joomla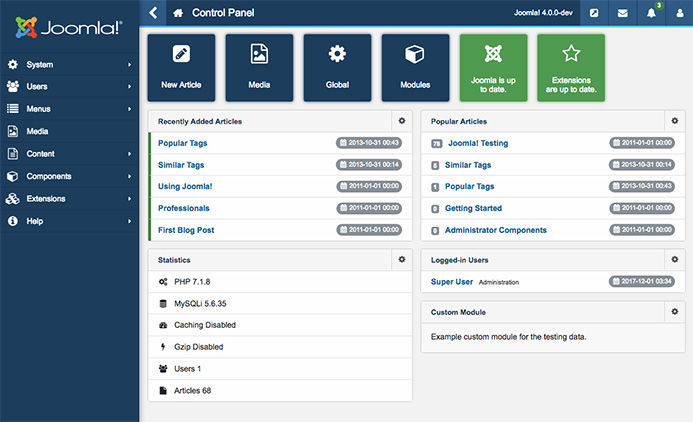 Joomla will quickly become your favorite CMS platform to use if you have diverse content to post.
One of its many outstanding features includes its adaptability to mobile-users, making it easy for users to access their content on phones the same way it is accessed on the desktop.
However, with a steep learning curve and targeting advanced web creators, Joomla may not be an ideal choice if you're looking for a beginner-friendly CMS.
Features at a glance:
SEO-friendly
Easy to install extensions
Open source
Publishing tools
6. Magento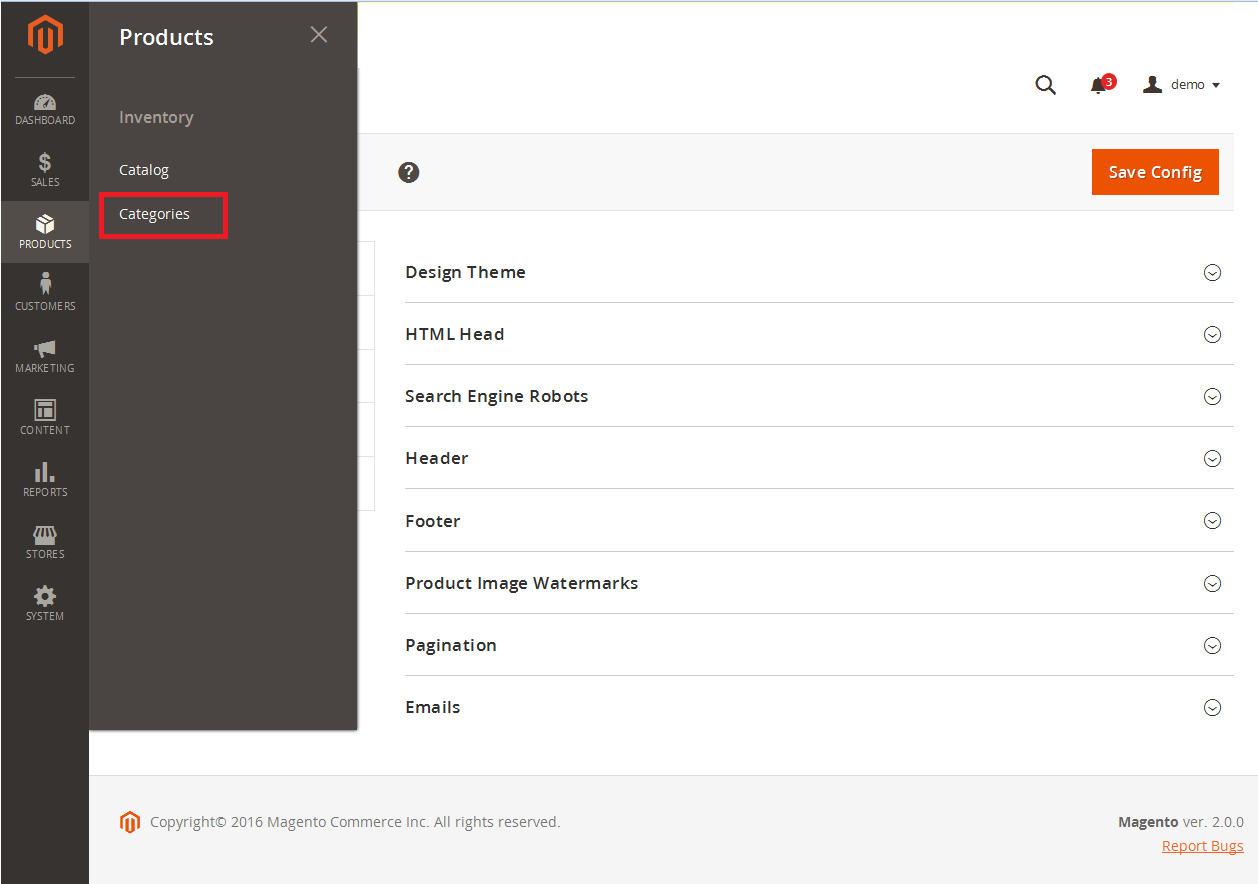 Magento is another CMS platform catering specifically to the e-commerce industry.
It comes with customizable features like visual merchandising, instant purchasing, tracking visitor's choices. Users are also able to accept payments made through third-party apps and launch multilingual sites.
Magento also has various extensions, widgets, and themes to incorporate in their online store to expand the feature set.
Features at a glance:
Fully 100% customizable design using templates
SEO-friendly
Batch import and export of catalog and customer information
Catalog Management
7. Zephyr
Zephyr is for agencies that need complete transparency, 100% support, and direct access to their partnering agencies' web.
Its highly technological management features like an audio content editor and e-forms help it rank higher for advanced usability.
Features at a glance:
Flexible design layouts
Integrations for CRMs
Free SSL, 2-step verification and HSTS
8. Squarespace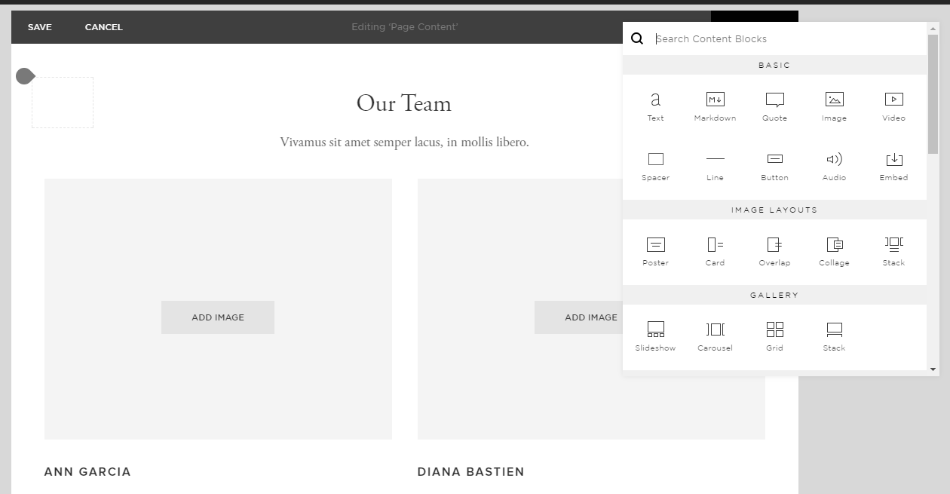 Squarespace is used by small to mid-size businesses and is known for its aesthetic, user-friendly website interface.
It comes with various mobile-friendly themes, templates, and basic image manipulation features that can make your website look professional with just over a few clicks.
However, it is not entirely free. The basic plan starts at $16 a month; the business plan is $26 a month, followed by advanced plans perfect for e-commerce stores in need of additional features.
While Squarespace is an excellent choice for smaller websites, it may not suit your requirements as you scale your content efforts in the longer run.
Features at a glance:
Templates
Tweak design styles and create custom modules
Drag and drop interface
Basic SEO settings for your pages
9. Shopify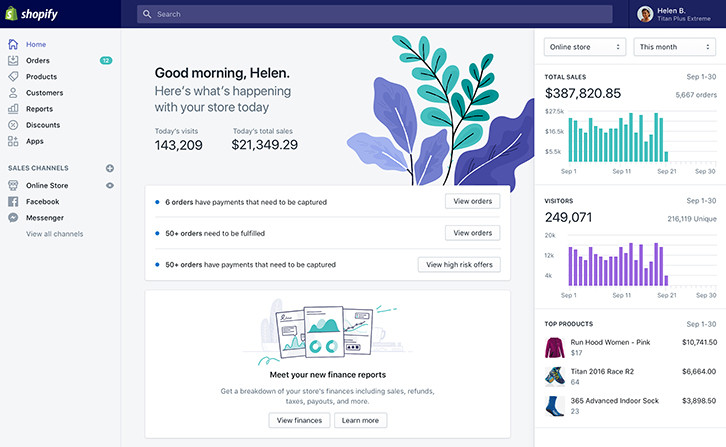 Shopify's most incredible thing is that it can be incorporated with WordPress websites and other platforms while also serving as a standalone CMS if need be.
Shopify is popular for several reasons. It offers e-commerce owners their own domain name, SSL certificate and sets everything up for them right from promotion to advertising.
Download Shopify theme for free. Its high-converting, best-in-class load time and mobile responsiveness.
It also has one of the best third-party integration systems like tracking cart abandonment issues, sharing on various social media platforms, etc.
Features at a glance:
Product management
Hosts domain name and SSL
Third-party Integrations
Theme store
10. Sitefinity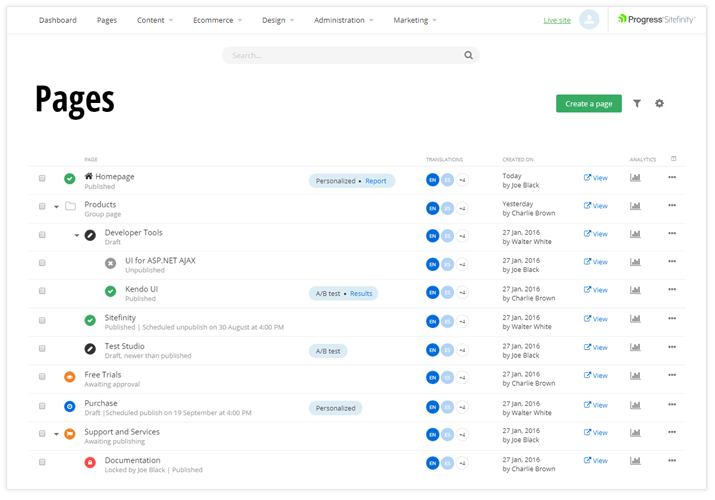 Sitefinity makes it easier for marketers and developers to combine technological complexity with limited resources to provide users high-touch personalized experiences.
Features at a glance:
Drag & Drop Layout Builder
Digital Asset Management
Taxonomy Management
Drag and Drop Form Builder
Conclusion
CMS platforms can seamlessly manage your content without you having to indulge in coding or programming with special languages. Some of the tools discussed above focus exclusively on helping you maintain and market a website, while others are good at managing your content and deploying APIs.
So, choose wisely.
Receive resources directly to your inbox
Sign up to get weekly insights & inspiration in your inbox.