Let's start with the basics.
Every business has one main and common goal; reaching success and growing the business.
On the road to growing the business, the availability of your brand, and the traffic increase. That brings more customers and, at last, you have a larger customer data that has different inner groups, subset categories, and clusters of interest that are required to be understood and behaved uniquely.
All these transitions and new milestones bring out an abundance of data that needs to be digested, processed, and visualized to generate insights and develop strategies around them. And, this is the moment customer relationship management (CRM) software comes into the stage and makes the magic for you!
CRM software manages and monitors the customer life cycle of a business automatically and gives you clear end-to-end visibility. Especially the marketing, sales, customer success, in other words, customer-facing/related, teams should take advantage of CRM tools to understand customer needs in real-time, respond to them effectively and build long-term relationships.
That's why no matter enterprise or small to medium-sized businesses (SMB), every single one of them should be armed with CRM technology to reach sustainable and scalable growth.
The market research shows the same indicators as around 91% of companies with over 10 employees have integrated a customer information and relationship management technology in their business. Also, the market size is projected to hit USD 114.4 billion by 2027 which is huge.
So, owning a CRM solution is not a debatable point? Right?
Now, maybe, we approach the hardest moment which is stepping into the market and picking the right technology.
I can hear the silence…
Let's reveal the mystery. You may already have heard about them or tried, but if not, in this article we'll detailly examine two big players in the market - HubSpot and Zoho CRM, evaluating their features in different categories.
Before diving into the deeper sea, in case you may want to have better visibility on the CRM software market and know the other players, here is a great roundup of the CRM market created by Capterra - the premier review & rating marketplace for helping businesses find the right software from different categories.
What is HubSpot CRM and who is for?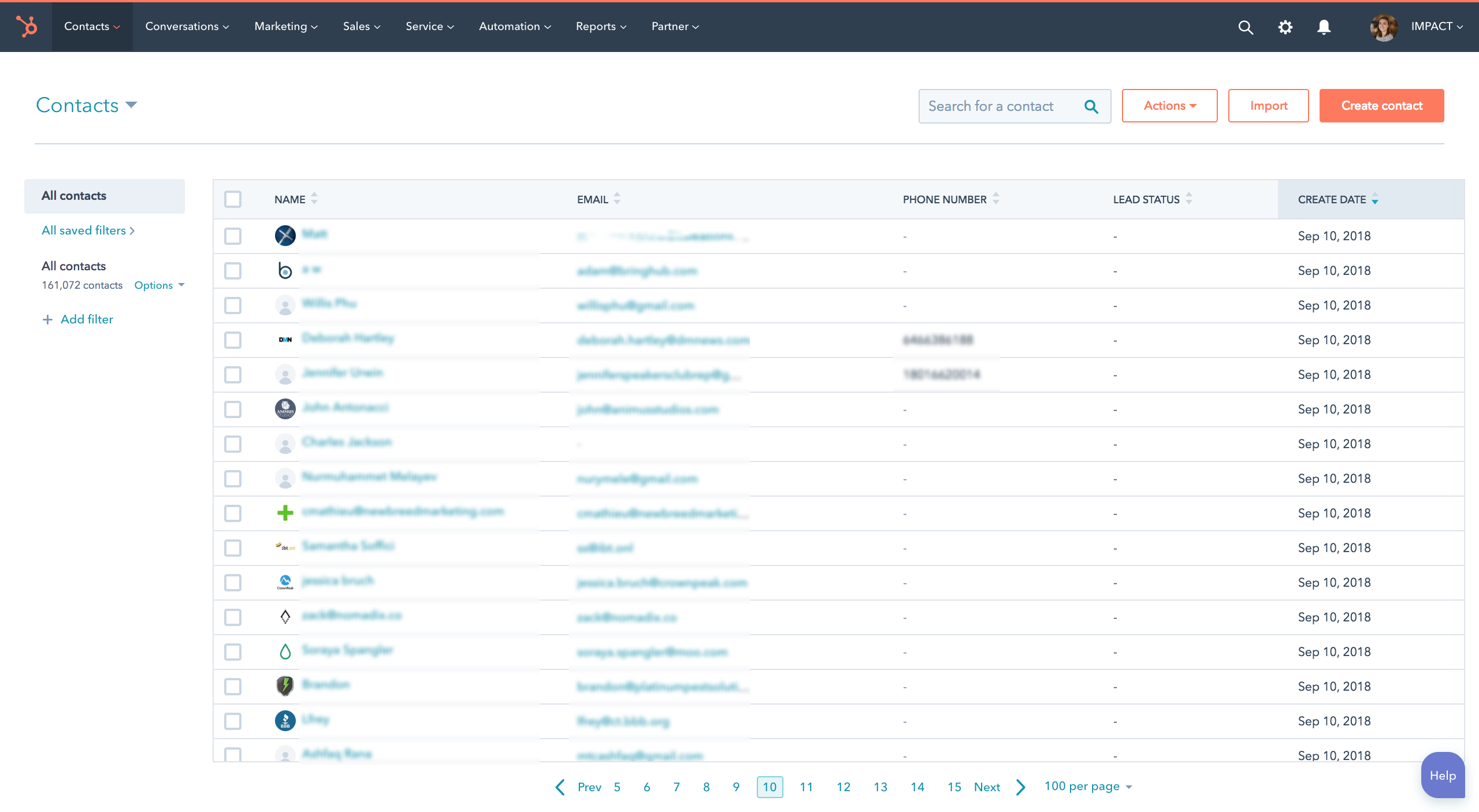 All sizes of companies can use HubSpot CRM, it was designed for that! However, if you run a small medium business, HubSpot may be great for you as it offers a free version and is easy to implement.
The software provides a wider range of features including the sophisticated feature set for the upper-tiered paid versions for the high or enterprise-level companies which have to deal with huge data.
HubSpot mostly covers the sales and marketing areas. That's why the companies that can combine these two will get the most out of this technology. It also has a great ability to visualize numbers and metrics to get to-do-point insights out of the whole data.
From a very broad perspective, HubSpot's funnel automation, lead flow, lead scoring abilities are the most effective ones.
What is Zoho CRM and who is for?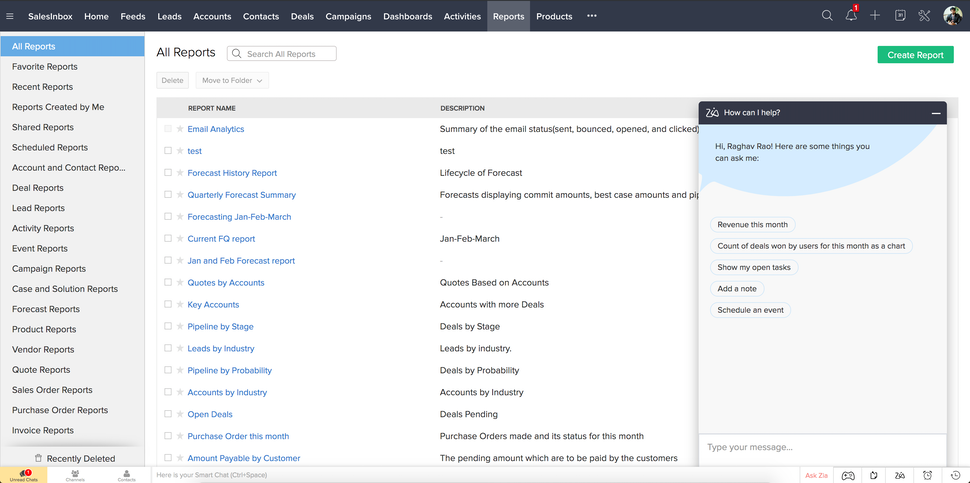 Zoho CRM has also a great range of business portfolios thanks to its flexible pricing tier but the industries of consulting, media, B2B tech, the real estate covers most of them.
The vision of the company is "smart sales with efficiency" with the aid of tech abilities and especially "cloud-based customer relationship management software".
Zoho's prospect and lead management abilities are the best primary use. Moreover, the solution offers best-in-class sales pipeline management alongside data reporting and analytics. So, if you are going after big-ticket size deals and need to maintain your sales cycle, Zoho CRM would be a great perk for your process. Also, if you have a crowded sales team, tracking their potential deals and performance will not be a hassle for the company.
HubSpot vs. Zoho CRM Feature Comparison
Evaluating the features of HubSpot and Zoho CRM and choosing an obvious winner is not the right thing to do. First of all, you need to be a master of your needs and what you should expect from the software. The business needs and goals have to be matched with what technology offers.
Workflow automation, sales forecasting, lead generation are the features you'll get with these platforms, depending on which you choose and what you're willing to pay for.
What should you expect from HubSpot?
HubSpot is an end-to-end marketing platform that enables you to manage leads, creates lead forms, automates funnel, and puts in sync with your team including a free CRM platform at the core.
Top-class marketing materials such as free training, courses, blogs, industry ebooks, and reports are the great treats that your team can find and develop themselves in many different disciplines especially in inbound marketing areas.
HubSpot sales and marketing technologies are the most obvious plus for the businesses. Especially, after gathering all of your leads and shipping to your entire team, everyone will be able to reach the data quickly, meet at the centralized dashboard to speak the same language which creates a high level of productivity and profitability for the entire business.
The dashboard is comprehensive and gives the confidence of what to do next. It's executive-level dashboards visualize the team performance in real-time, supporting every member of the team to hit their targets.
It also has great automation abilities when it comes to lead tracking and relationship building between your customer-facing teams and customers. Creating automated email sequences is helpful for the sales reps to nurture the leads continuously, and designing automated funnels and flows enhances marketing performance. Eventually, taking the manual work off of your team will free up more time for taking strategic decisions and sales-based actions.
What should you expect from Zoho CRM?
Zoho CRM's basic and free plan offers all of the basic CRM requirements including sales task management tools (which is also called pipeline management), meeting logs and notes, events, and social media implementations.
Unlike many other level-based pricing modeled CRM systems in the market, Zoho CRM keeps offering handy features such as reports and dashboards, defined roles and profiles, sales projections, scoring, call center integrations, delivering the newsletter to subscribers, the capacity to hold 100K user records.
The differentiator of Zoho CRM from HubSpot is the customization feature. According to the business needs, you can fully customize the dashboard, reports, and contact management.
For, example, you can tailor the appearance of your contact or lead pages with all the information that passed to the team.
HubSpot vs. Zoho CRM Support Power
Acquiring software should not only mean using the dashboard, it should also get full support, consultancy, and required onboarding.
What HubSpot offers?
If you want to receive full support you have to pay for it which is quite a common action in the software market. However, it is not a hassle to reach any contact from HubSpot. The most convenient way is to get in touch via email, phone call, or social media.
You can also find a Help button that redirects you to an instant chat page.
Besides that, HubSpot has a robust community in the whole world helping you with your questions. Also, if you did not still check the materials of HubSpot, diving into the blog or academy page is highly recommended. You can even troubleshoot your problem or find the right answers by consuming the contents.
What Zoho CRM offers?
Zoho CRM leaves no other choice but to acquire their upper-level package to receive support which is again limited to business hours.
The company also has a great content database for their customers who are searching for some solutions by themselves. But, when compared to HubSpot, they still have a long way to go.
HubSpot vs. Zoho CRM Usability
Choosing that category is not easy as two solutions have a fine-tuned user experience and design as they don't want to confuse and alienate different teams.
What does HubSpot look like?
HubSpot looks impressive and comprehensive when we experience the usage, especially easy-to-use and intuitive dashboard onboards you as soon as you log in for the first time.
Having that amount of features causes confusion and discovery failure because of the categorization or menu framing. However, HubSpot made a tremendous job here and designed according to user scenarios and eliminated that possible problem.
What does Zoho CRM look like?
Zoho CRM also receives the congrats for offering adaptive design and flow that requires basic training for its customers. Comprehensive dropdown menu, settings and visual notifications fulfill all modern SaaS modern requirements.
Even creating the customizations can create burden at the initial step, having personalized dashboard and custom materials facilitate the process in the long run.
HubSpot vs. Zoho CRM Integrations
Which integrations are provided by HubSpot?
HubSpot has a seamless and huge ecosystem built with hundreds of different technologies. It is also updated every month. So, we can clearly say the community is getting bigger and bigger everyday.
Popular tools and apps such as G Suite, Wordpress and Mailchimp are in the list. So, in a nutshell, if we are in an integration discussion, no one can race with HubSpot.
Which integrations are provided by Zoho CRM?
The biggest advantage of Zoho CRM is the strong integration ability with social media platforms such as Facebook, Twitter. With that great integration, Zoho CRM customers can monitor brand mentions, lead activities and receive instant notifications.
HubSpot vs. Zoho CRM Pricing
How much should the businesses pay for HubSpot?
For the basic usage of the platform, HubSpot has a free version. HubSpot offers different pricing models for different hubs and features.
Marketing platform is priced between $50-$3,200 per month.
Sales & CRM is priced between $50-$1,200 per month
Service platform is priced between $50-$1,200 per month
HubSpot CMS is priced at $300 per month.
How much should the businesses pay for Zoho CRM?
Zoho CRM has also a free edition for basic usage. For the advanced features of the platform, you can find different options at below;
Standard: $12/month per user
Professional: $20/month per user
Enterprise: $35/month per user
Ultimate Edition: $45/month per user
Making the right decision
The usability of HubSpot is more convenient and the app integrations are exciting both in a manner of numbers and functionality. Wide range of third-party integrations unify the process of every team. The other important factor of choosing HubSpot should be launching automated funnels to keep the prospects nurtured and enhance the efficiency of teams.
On the other hand, in case you are seeking for more affordable technology Zoho CRM could be the right choice for you. Besides that, if social media is at the center of your business processes, Facebook and Twitter integration of Zoho CRM would create a new playground for you.
Either way, the best way of deciding which solution to go with is to give both software a chance and try their free-trial.
Receive resources directly to your inbox
Sign up to get weekly insights & inspiration in your inbox.